Holistic Grain Free Mature Dog Chicken & Sweet Potato Recipe
Give your mature dog a big boost with The Pet Pantry Holistic Grain Free Mature Dog food recipe.  Packed with a high concentration of quality animal protein along with nutrient-rich, all-natural ingredients. It's everything your dog needs to thrive in one bowl.  A natural food that contains none of the grains or glutens that can trigger allergic reaction in some dogs. It has more of the protein your dog craves, and no fillers like wheat, corn, or soy.  Because the nutritional requirements for mature dogs are different than other life stages, it features added nutritional supplements to support their overall health and well-being.
A healthy, delicious meal that includes complete and balanced nutrition for your mature dog!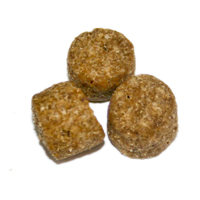 Key Benefits:
Essential high-quality proteins to prevent muscle loss maintenance and complex carbohydrates for energy
Taurine to help maintain heart health and DHA to promote brain and eye health
No glutens, GMO's, corn, wheat, soy, or by-products
Reduced calories to prevent weight gain
Increased fiber to prevent constipation
Added glucosamine and chondroitin supplements for joint support
Antioxidants, such as, vitamin E and beta-carotene for brain health and immune system health
Omega fatty acids for a healthy skin and coat
Beneficial bacteria to promote healthy gut
Contains only premium, all-natural ingredients